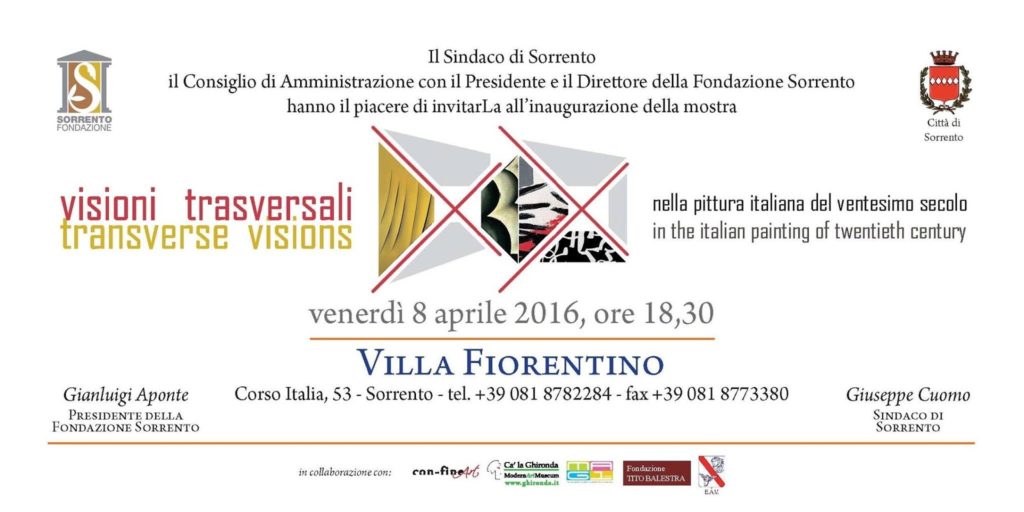 On July 8 at 19 will be inaugurated the exhibition dedicated to the '900 sculpture which forms the second part of the event "Tranverse Visions", the exhibition in Villa Fiorentino dedicated to the twentieth century and which has recently seen the end of the first section concerning the painting.
It will be exhibited in the ten rooms of the villa 49 works by leading sculptors of the '900 including Fabbri, Baccarini, Baj, Martini, Messina and others, the protagonists of the century that just ended that has been rich in poetic innovations, formal and palstic. Perhaps in ths history of art there is the memory of so many and such foundamental changes to the same perception of the artwork and the artist's role.
The preview of this exhibition is visible from several months  in the main squares of Sorrento, thanks to installations positioned and they see exhibited the following works: "The Night (Oedipus and the Shinx)" in Piazza Veniero author Augusto Perez; "Bifrontale One" in Piazza S. Antonino author Pietro Sonsagra; "Form D" in Piazza Tasso author Umberto Mastroianni; £Thebes sitting" in Piazza Lauro author Giacomo Manzù; "Great Contorsionist" author Luciano Minguzzi at Villa Fiorentino.
Villa Fiorentino
Corso Italia, 53 – Sorrento
tel. 081 8782284 – fax 081 8773380
Everyday: 10-13 e 17-21
Saturday, Sunday and Holydays untill 10 pm
Ticket € 5,00
Only for groups over 20 people € 3,00
School goups € 2,00