Until April 30 at the Museo Correale in Sorrento more than 350 drawings and paintings by Teodoro Duclère.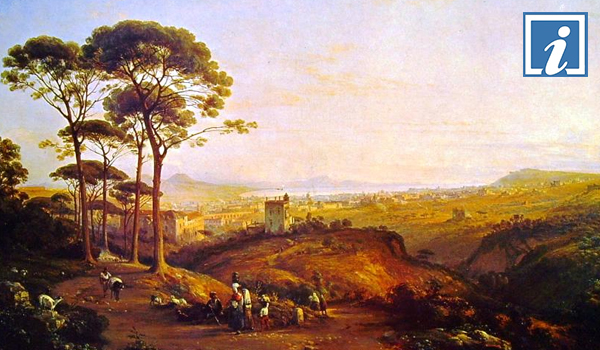 Teodoro Duclère (Naples, 1816-1867) was an Italian painter, active as a landscape painter in Naples, Italy.
He was born to French parents in Naples. He is one of the painters considered to belong to the School of Posillipo that arose in Naples associated with the Dutch painter, Anton van Pitloo, who would become Duclère's father-in-law.
The exhibition aims to showcase the distinctive holdings of the museum's library, set up on 10 October 1918.
The library currently owns some 6,000 books and pamphlets, over 400 manuscripts and a significant number of 16th- and 17th-century volumes, as well as an extensive collection of books by Torquato Tasso dating from the 1500s onwards.
Over the years the library has been enriched with mainly 18th- and 19th-century books on the history of the Kingdom of Naples and the Two Sicilies.
The Museo Correale is offering a rare glimpse of its collection of 400 drawings coming from the house of Teodoro Duclère (Naples, 1812-1869), never before shown to the public.
The collection from Duclère's studio was added to the museum's holdings through a private donation left to Count Pompeo Correale.
Teodoro Duclère
Drawings and paintings of Museo Correale
September 28th 2013 – April 30th 2014
Schedule
9.30am / 6.30pm untill October 30th 2013
9.30am / 1.30pm from October 31st to Aprile 30th 2014
Open on Sunday and holidays – Monday closed
(from January 6th to February 10th 2014 closed)
Ticket
With the same ticket you can visit the Teodoro Duclère exhibition and the Museum
full: € 8,00 per person
Group (minimum 20 people) € 5,00
Catalog
Con-fine edizioni – € 40,00
(discount on exhibition € 30,00)
Information
Museo Correale di Terranova – Via Correale 50, Sorrento (NA)
Tel / Fax 081 8781846
info@museocorreale.it – www.museocorreale.it