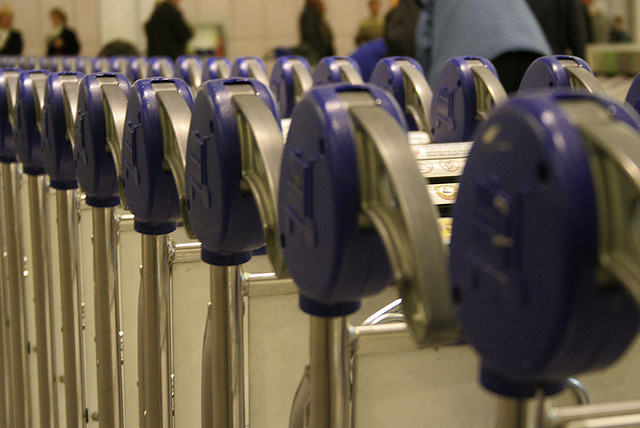 Those landing at Naples airport with the intention of continuing to Sorrento or the sorrentine peninsula, will most certainly be interested in the services offered by Naples airport.
To this point it can therefore be stated that Naples airport provides:
A call information centre, equipped left luggage office, call centre for baggage assistance, baggage protection service, Wi-Fi service, goods office, public offices, services reserved for special assistance for handicapped or disabled people.
Information call centre
Naples airport provides a telephone call centre with pre-recorded information of various types.
To use this service call: 848 888 777 (from Italy) or +39 081 7515371 / +39 081 7515471 ( by mobile phone or from abroad).
Thanks to the call centre it is possible to receive information non-stop, 24 hours a day, 7 days a week on: flight arrival times, flight departure times, parking fees, parking availability and booking parking spaces. It is also possible to receive information regarding the services of the ticket office or further telephone numbers to obtain information on means of transport, for travelling to and departing from Naples airport, to contact vendors or catering services within Capodichino airport. It is also possible to speak to an operator.
Left luggage
The left luggage office at Naples airport operates a 24 hour service 7 days a week (including Sundays and Bank holidays). It is situated in the "Quick Parking" area which is to be found outside the arrivals section of the main terminal building.
The charge for each item of left luggage is 5 euros for the first 24 hours or fraction thereof.
For information call: +39 081 789 6366
The call centre for baggage assistance
Should someone lose their baggage they may use the telephone assistance facility.
In case of necessity, those who are not Alitalia customers, may use the automatic information service by calling: +39 081 7986765 (or +39 081 7986766), for an update on the current situation as to any baggage which has been lost. This service is also available non-stop 24 hours a day, 7 days a week.
Should it be desirable, when reporting lost baggage, one may activate a notification service which operates via text, permitting the customer to receive information (via personal mobile phone), as to the current situation in the search for their lost baggage.
Alitalia customers, on the other hand, may refer to the lost luggage assistance service provided by the flight company, by calling: +39 081 7092813.
Baggage protection service
The "safe baggage" system is in use at Naples international airport. This system seals luggage in a cellophane wrapping and so protects it before it is loaded onto the plane. This system also provides an insurance cover up to the moment that it is reclaimed by the customer at their destination airport. The service is available from 5:00 to 21:00 in the check-in hall on the ground floor of Naples airport. The interested party is requested to pay a charge of seven euros per item.
The Wi-Fi service
A wireless service for surfing the internet is available at Naples airport, thanks to the Wi-Fi system, for those in possession of wireless PCs and hand-held computers.
For connection to this Wi-Fi service, pre-paid cards can be acquired in the arrivals and check-in halls in Naples airport from the "Sunstore" shops.
The Wi-Fi connection at Naples airport is active in the areas comprising gates 1 – 10, in the departure lounge on the ground floor of the airport and the "Ciao Autogrill" bar area (also on the ground floor near the departure gates).
Further information may be obtained from the Customer Service Desk, by calling: +39 081 7896259.
Goods Office
A goods office is provided at Naples airport which is open daily except Sundays and Bank Holidays. Opening hours are: Mon. – Fri. 9:00 – 14:00.
The office which issues insurance policies, on the other hand, is open 9:00 – 16:00.
The despatch office may be contacted on: +39 081 7896721.
The collections office may be contacted on: +39 081 7986290.
The call centre for carriers may be contacted on: +39 081 7986319.
Public offices
Certain public offices are available at Naples airport and others of great interest to the general public.
Amongst these, for example, the Post Office (open Mon.-Fri. from 8:00 to 13:30 and Saturdays from 8:00 to 12:30) is situated at approximately 30 metres from the departures end of the main terminal building.
Among the other offices are those which offer an exchange service – Travelex. These offices provide the following services: currency exchange, sale and acquisition of travellers' cheques, international currency transfer etc. The Travelex exchange offices in "arrivals" are open 8:00 – 23:30, whilst those in "departures" are open: 05:30 – 22:00.
Special assistance for handicapped or disabled people
In an International airport such as Naples, the least that can be done is to provide special help and attention for handicapped, disabled or infirm people. To this end proper consideration must be exercised to assure the same quality of services to all those who may be in need of them.
To facilitate entry to and exit from Naples airport terminal building, special pavements with ramps, bleeping lights to assist the blind and 27 disabled parking spaces are provided.
For those desiring or needing assistance, further information is available by calling free-phone number: 848 888777.
The assistance service (carried out by specialised personnel) can be contacted by pushing one of the appropriate call buttons to be found at the entrances of the terminal building.
Passengers in need are accompanied at all times from check-in until boarding and only by specialised personnel.
Fabrizio Guastafierro