The sugar almond palms are an ancient tradition of Sorrento Coast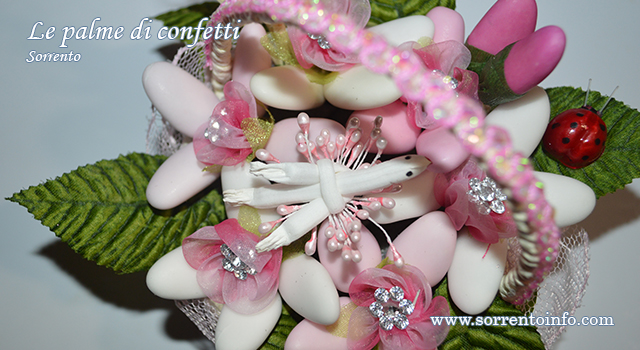 The legend of the miracle which saved Sorrento from a Saracen raid.
The ones our grandmothers made are really rare, replaced by serial production, but the tradition is still deeply rooted. In the Sorrentine peninsula palm Sunday is followed by a century old tradition.
Maybe only a few people know that, in Sorrento and its outskirts, the sugar almond palms have a particular meaning. The legend says that, during a palm Sunday in XVI century, while Sorrentinian were getting ready for the olive blessing, the country bells echoed for a Saracen raid. The priest went to the church doorstep, inviting people in to pray and invoke to be saved.
Everyone went in except for a young fisherman who reached Marina Grande almost bewitched by a mysterious call. While the priest was blessing the olive branches, a terrible storm broke out and all the Saracen ships sank just off the coast. Only a young girl, a slave of Saracen, managed to save herself and was taken by waves onto the beach. Here the fisherman picked her up and led her to the church announcing the miracle. The girl, cried she wanted to become Christian to thank God for saving her. In a sign of gratitude she untied an old small bag she used to wear around her neck and offered a handful of white sugar almonds to the priest. After a Christian blessing the sugar almonds were handed out to people and later the girl revealed the mysterious recipe. Since then the palms are made with sugared almonds to celebrate the miracle which saved Sorrento.
Made by Assunta Mastromano and Arianna Mastromano