Recipe of sauced curly octopus: try it on pasta.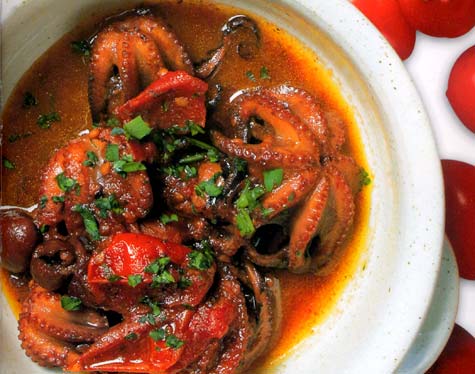 The curly octopus is a traditional dish of Surrentine tradition. The sauce is excellent with pasta, especially with "linguine". Olives, capers, parsley and EVO oil enclose the Mediterranean flavors in this dish rich in flavor and tradition.
Usually you can try it in the most typical restaurants in Sorrento. The best choice are the restaurants on the sea in Marina Grande, Puolo or Marina Piccola but you can find the true flavour of the sea also in the centre of Sorrento.
Ingredients
1 Kg curly octopus
250g small tomatoes
60g black olives
30g salty capers
1 and 1/2 decilitre extra virgin olive oil
2 cloves garlic
chopped parsley
red hot pepper (optional)
salt
Procedure
Frizzle garlic in oil. Add curly octopus well cleaned (the octopus' head has to be covered by tentacles). Desalinised capers and chopped tomatoes. Cover and cook.
When is cooked for about 45 minutes add black pitted olives and chopped parsley, complete cooking.
Curly octopus' sauce is excellent for pasta: in this case, remove curly octopus from sauce, boil 320/400g linguine and drain slightly undercooked, add to the sauce and sautè.
Serve with curly octopus and chopped parsley. You'll have as a result "Linguine with Curly Octopus Sauce".