Discovering Marina of Crapolla: an area attracted by ancient mermaids, let's begin another fascinating exploration within the territory of Massa Lubrense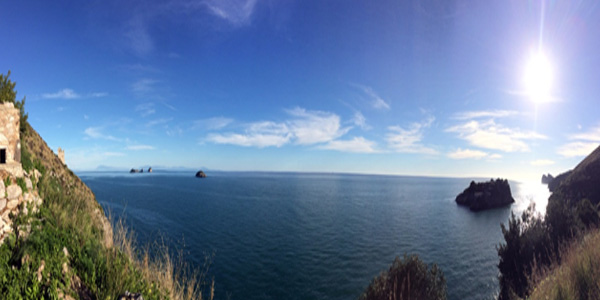 A truly enchanted place and completely untouched, this area is known for its numerous historical and mythological stories that truly give visitors a great perspective of how this area once was in ancient times and why it was so greatly appreciated by many.
One you reach the small village if you will, of Crapolla, you'll notice that it is still used by fishermen to dock their boats at times, even though it is completely uninhabited. On foot, it's a descending path of over 700 steps, which takes approximately 30 minutes.
And so the journey begins: leaving behind the beautiful church in Torca, dedicated to St. Thomas the Apostle, after an initial paved stretch of road, you will find yourselves suddenly walking onto a small path, completely surrounded by untouched nature.
What you'll really notice first hand is that the unpaved steps are quite slippery even when it doesn't rain so tread cautiously. Around you are hundreds of "bell" flowers. Yellow in color and extremely fragrant, making the walk down even more pleasant.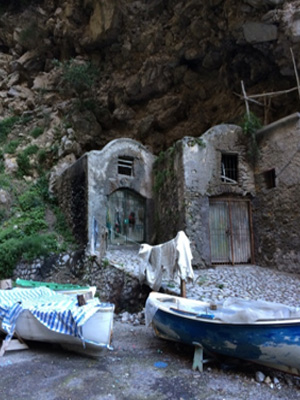 While going down the steps, you'll also notice different paths that lead all the way up to Sant' Agata sui Due Golfi. Witnessing such breathtaking sceneries, especially when the sun is setting, which is by the way the ideal time to participate in such an excursion, will never be forgotten.
Taking in all the fresh air, your gaze will then be lost upon the various little islands scattered across the Amalfi coast, and this is the whole point of the excursion, unwinding, breathing fresh air and gazing upon the wonders of this great peninsula.
The winding steps down to Crapolla can actually be seen from up top in Torca. And yet, so far away, you can already tell the walk will be worth your while.
As soon as you step foot in Crapolla, you'll see a little abandoned chapel dedicated to St. Peter. Enjoy a wonderful view of Isca, Vetara, Li Galli, Praiano and on clear days, you can perfectly distinguish the entire Gulf of Salerno.
The little chapel stands on the ruins of an ancient Benedictine monastery from the 12th century.
The pebble beach of the Marina Crapolla overlooks the Gulf of Salerno. There are many buildings partially recessed in the bedrock, which are now only used for storage by fishermen.
Completely surrounded by untouched nature and astonishing views, this undying land of Crapolla will surely have you reminiscing for years about what you experienced.
Useful information
To reach Crapolla in Massa Lubrense by car, drive along the SS145 from Castellammare di Stabia.
By train, take the Circumvesuviana, get off at the "Sorrento" stop and then take the SITA bus to Sant'Agata sui due Golfi.
Tips
Before taking the hike down, be sure to bring water, a spare shirt, and a chocolate bar to keep your energy high! Don't forget to wear comfortable shoes!