Maison La Minervetta Sorrento: a terrace overlooking Gulf of Naples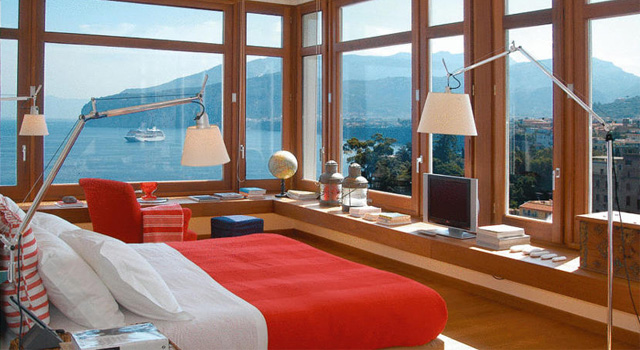 Maison La Minervetta | Via Capo, 25 – Sorrento
You can sleep with moonlight and wake up with the sunrise and the beautiful sea. The place has extraordinary views complemented with "movie set" like interior decoration.
The location is stunning. Walking distance to the main town, but away from the hustle and bustle. The hotel is nestled in the mountains and you make your way to reception via a mirrored lift. Very quirky.
The décor is so bright and cheery. The main sitting area has very unusual decorative pieces and tons of interesting books to browse. The large terrace with deck chairs overlooking the bay and Mt. Vesuvius is breathtaking.
The rooms are all amazing with sea views and are very comfortable.
Breakfast is gorgeous. Nice continental selection and the cook is happily prepare you something, if you fancy it.
The staff are very knowledgeable and even though it's a small hotel, there's always someone available to help.
Location a bit far from downtown but with attached garage.
Tips and Tricks
It's important to know that there's a 10 minute walk into town centre
There is no restaurant or shops on the premises
All of the rooms have amazing views and, being below the level of the road, are very quiet